---
September 1, 2022
Vol. 53 No. 6
Banned Books Week, held each year the last week of September, celebrates the freedom to read and draws attention to how destructive and divisive censorship can be. Many of the books from APA's award-winning children's book imprint, Magination Press, are frequently challenged or banned, including one that even made the American Library Association's (ALA) Top 10 Most Challenged Books list in 2020: Something Happened in Our Town: A Child's Story About Racial Injustice by Marianne Celano, PhD, Marietta Collins, PhD, and Ann Hazzard, PhD, which describes a police shooting of a Black man.
Another Magination Press banned book, This Day in June by Gayle Pitman, PhD, APA's first children's book featuring sexual orientation and gender diversity, appeared on the ALA Top 11 Most Challenged Books list in 2018. Pitman's groundbreaking book "created a pathway for other LGBTQ+ books for kids that are positive, joyful, and celebratory," said Michael Genhart, PhD, a clinical psychologist who counts it among his favorite banned books. Genhart has published two LGBTQ+ themed picture books of his own with Magination Press that find themselves targeted, including Rainbow: A First Book of Pride. His hope is that this year's surge in book banning leads to something more constructive. "Controversy invites conversation," said Genhart. "So, despite being very troubled by banned lists, my hope is that when any of my books ends up on them what happens is productive dialogue, incrementally moving the needle forward toward equity and inclusion."
---
Response to Love Is Love on the Banned Book List
---
KTVU – Channel 2 Portland, OR
Author Interview on They're So Flamboyant
Friday, June 17, 2022
---
University of California, San Diego Triton Magazine
May/June 2022 Issue
---
---
Bon Appetit – The Cookbook Gift Guide That Covers EVERYONE You Know: 2021 Edition
---
Booklist Reviews Cover Article – December 2021
---
"May Your Life Be Deliciosa" by Michael Genhart
Recommended age: 4-8
Read this if … you're looking for a book that celebrates family and traditions in the most delicious way!
In a nutshell: "May Your Life Be Deliciosa" takes readers on a journey with the narrator Rosie, as she makes tamales with her family on Christmas Eve. The narrator's Abuela leads the way, turning each step of the tamale-making process into a blessing for her family around her as she recalls memories of her own life.
Why I love it: You can't really go wrong with books about food and family — but throw in the extra layer of culture and tradition, and this one is bound to be a holiday classic. In addition, the bold, striking illustrations perfectly complement the storytelling in this stunning picture book.
Favorite quote: "Es una talamada! A party in the kitchen!"
---
New York Times: Book Review – November 19, 2021
---
Tammy Murphy, First Lady of the State of New Jersey
---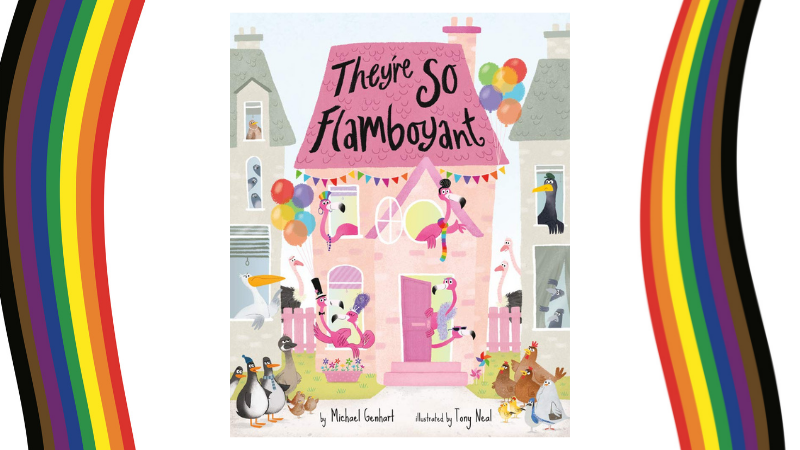 They're So Flamboyant by Michael Genhart, Illustrated by Tony Neal
When a "flamboyance" of flamingos moves into a neighborhood full of other types of birds, feathers get ruffled.

Bright pink colors and long legs—how dare those flamingos!

Will the brooding birds realize their mistake and restore peace and harmony to the community?
This is absolutely a picture book I wish had been read to me when I was a little kid! And, it's a homophobia smackdown, because the negativity of so many birds is completely turned around by the flamboyant flamingos just being their wonderful selves.
The story is awesome, the illustrations cartoony and so kid-friendly, and while the bird group names are really cool, the real heart of the book is how it can open up a conversation with kids about how we treat those who seem different on the outside from ourselves… There's a well-done author's note at the back, that includes this:
Conversation with children about the assumptions and stereotypes that can lead to excluding behavior are vitally important if we are to live in a world that is more inclusive, fair, and welcoming.
"They're So Flamboyant" is a great place to start those conversations. And it's SO proud and the illustrations are so clearly filled with Queer Joy and Rainbow Pride Flags and little in-jokes for adult readers (like how the flamingos renovate their new home to get rid of all the closets!)
I loved this book! As the back cover shouts, "Pretty, Pink, Proud!"
Add your review of "They're So Flamboyant" in comments!
---
Cover reveals for May Your Life Be Deliciosa and They're So Flamboyant by Michael Genhart, illus. by Loris Lora and Tony Neal
We are delighted to host the cover reveals for TWO of Michael Genhart's upcoming picture books: May Your Life Be Deliciosa, which releases September 14, 2021 with Cameron Kids, and They're So Flamboyant, which releases October 19, 2021 with Magination Press.
"What is the recipe?" I ask. Abuela laughs. "It is in my heart, Rosie. I use mis ojos, my eyes, to measure. Mis manos, my hands, to feel. Mi boca, my mouth, to taste. My abuela gave it to me, and I am giving it to you." Each year on Christmas Eve, Rosie's abuela, mamá, tía, sister, and cousins all gather together in Abuela's kitchen to make tamales—cleaning corn husks, chopping onions and garlic, roasting chilis, kneading cornmeal dough, seasoning the filling, and folding it all—and tell stories. Rosie learns from her abuela not only how to make a delicious tamale, but how to make a delicious life, one filled with love, plenty of spice, and family.
A delicious and fortifying picture book inspired by the author's family, featuring the Mexican tradition of holiday tamale-making
And, here's what the illustrator had to say about the process of creating the cover:
Growing up, the holidays have always been filled with color and warmth. It's the time of year when you can gather with loved ones and enjoy cooking together. I wanted the cover to reflect the warm connection Abuelita Pina and Rosie have while learning to make tamales. The family relationship is so important in this book and I wanted to show that bond between the two characters. I was also inspired by the bright color palette often found in Mexican artisans and folk art. Things like floral oil cloths, decorative tins & tinsel, and cazuelas de barro are some of my favorite inspirations and I was happy to be able to include them in the cover.
Finally, here is the cover of May Your Life Deliciosa
GORGEOUS! BUT WAIT….THERE'S MORE!
.
flam·boy·ant – a person (or bird!) who tends to attract attention because of their confidence, exuberance, and stylishness
This fun and funny bird's-eye tome to individuality, community, and harmony follows the reactions of a neighborhood full of birds when a "flamboyance" of flamingos moves in. Each band of birds—a gaggle of geese, a dole of doves, a charm of finches, a brood of chickens, a scream of swifts, and an unkindness of ravens—all have their feathers ruffled and express their apprehension about the new and different arrivals. Bright pink colors, long legs, how dare they! Even a watch of nightingales patrols after dark. When the band of jays decides it is time to settle down the neighborhood, the pride of peacocks takes the lead, with support from a waddle of penguins, a venue of vultures, a mob of emus, and a gulp of cormorants. Finally, they all land at the flamingos' welcome party only to realize that they had all been birdbrained. Their new neighbors are actually quite charming, and not so scary and different after all. Includes a note from the author on helping children to learn about acceptance, avoid stereotyping, and model welcoming behavior.
And, here's what Tony had to say about the process of creating the cover:
Creating the cover for They're So Flamboyant, I thought it would be nice to show the flamboyant flamingos and their colourful house centre stage! Their feathered neighbours are not too sure about the new arrivals, so I wanted to show this also, with some fun character expressions overlooking and peeking out of their curtains. I decided to use more muted colours for the neighbouring houses to help contrast with the colourful pink flamingo house for more impact. The artwork was created digitally in photoshop using a drawing tablet.
Now, here is the cover of They're So Flamboyant:
---
Two Marin Authors Celebrate Diversity With Kids' Books
Parents are no strangers to children's books, often referred to as kid lit. From a child's birth we rely on sweet illustrations and rollicking rhymes to soothe, nurture and teach our kids — and not just literacy, but kindness, empathy and community. Duck & Goose, Elephant & Piggie — you're like family. But just as children are aging out of their favorite board books, parents may find that kids are struggling in ways even these beloved books never prepared them for. Two Marin therapists-turned-writers are meeting families' needs by penning books about social, cultural and psychological diversity.
Merriam Sarcia Saunders is a licensed marriage and family therapist in Kentfield who raised three kids with what she refers to as possessing a "cocktail" of neurodivergent traits. She'd spent years searching for kid-friendly books that addressed ADHD, both for her own kids and for her practice, when she decided to write her own. "Adults have so much life experience to draw on when we face problems. We don't know who to talk to or how to seek help. Kids don't have that kind of agency. Books help them do that," Saunders says.
Her novel, Trouble With a Tiny T, is directed at middle schoolers and offers an enjoyable glimpse into the mind of a smart, creative kid with ADHD who stumbles upon a bag of magic and accidently brings toys to life. "You don't have to be neuro-atypical to enjoy it; it's just a fun book. But maybe it will create a little awareness or empathy in kids who may be in class with someone with ADHD. Because there is one in every class, at least one," says Saunders.
Books can be a powerful ally to kids who are feeling isolated. "We've all had that experience where you lose yourself in the world of a book. So for a kid that may be feeling isolated, it can be especially meaningful to share something in common with a book character. For some, it could even feel like a friend," says Saunders. And it's not just the kids who are struggling. Parents, now more than ever, are running on fumes. Saunders talks about the vast lack of understanding around ADHD, which leads people to think it's a matter of poor parenting. With her books she seeks not only help kids, but to help families feel seen and give them a toolkit to talk to their kids.
"My favorite emails are the ones from parents that simply say, 'Thank you,' " she adds. Her two picture books are designed for parents to read to their younger children and come with a notes section that helps parents lead conversations with their kids and even change their own way of seeing their family. My Whirling, Twirling Motor is about a kid who just can't settle his body, which gets him into plenty of trouble each day. But then his mom pulls him aside to tell him all the great things he did that day — and he feels loved and motivated to focus on the positive. My Wandering Dreaming Mind follows a girl who can't seem to pay attention, which makes her feel terrible about all the things that she's lost track of. Her mom helps her reframe her negative thoughts and focus on what an amazing kid she is.
Michael Genhart, Ph.D., is a licensed clinical psychologist in private practice in San Francisco and Mill Valley. After hearing repeating emotional themes from his clients, he wanted to be able to help a broader audience and has, in just five years, written 11 books. He noticed the teenagers and adults he worked with at his practice often had challenges navigating their friend relationships, so he went about creating books he wished they could have found at a younger age. Peanut Butter & Jellyous, Mac & Geeeez!, and Cake & I Scream! help kids understand why their friends may exhibit distressing behavior, and he does it in an accessible and disarmingly funny way. Ouch! Moments: When Words Are Used in Hurtful Ways and So Many Smarts! help kids understand bullying and bolster self-esteem.
Genhart also set out to create more inclusive literature, drawing on his own experience. "Representation is one of the main things I was thinking about," he says. "It's super important for kids to see themselves and their families in a book. If you don't see yourself in books, you can feel invisible." Rainbow: A First Book of Pride explains the significance of the rainbow flag while showing families with two moms and two dads. Accordionly: Abuelo and Opa Make Music shares how two grandfathers from different cultures find common ground through their shared love of music. He is releasing two more books this fall: May Your Life Be Deliciosa and They're So Flamboyant.
Rudine Sims Bishop, who has been called the mother of multicultural children's literature for her research on the topic, has talked about the importance of children's books as windows, sliding doors and mirrors. Windows allow you to see into another world, sliding doors let your imagination become part of that world, and when conditions are just right, mirrors reflect the world back to us as part of a larger human experience. As many communities in Marin struggle with a lack of diversity, books can expose kids to the wider world. "We should prepare our kids for the beauty of a diverse world and to celebrate that and take part in that. And one way of starting that is through books," says Genhart. "It's important for teachers and parents to introduce conversations about differences because we're all different from each other and how beautiful is that?
---
Changing the Narrative Around Homelessness In Dallas, by Hannah Lebovits
Even before I moved to Dallas in June 2020, I knew homelessness in the city had risen for years while housing affordability declined. Shortly after my move, I read a story in the Dallas Morning News that quoted Councilman Lee Kleinman advocating for the city to uproot individuals experiencing homelessness from parks and public spaces. So I gave Kleinman a call.
"People should be comfortable," he told me over the phone. "They should not be accosted. They should feel like they're safe."
At first, I couldn't tell who he was referring to. Surely, it was the most vulnerable group of people in the city, those who are stolen from, those who are at risk of being raped, assaulted, and left for dead almost nightly.
No, he assured me. They're not his problem; he was focused on residents who might have an interaction in a park with someone who doesn't have a roof. As I've learned after almost a year here, he is not the only person who thinks along those lines.
The number of people in this region who are experiencing homelessness and do not have any form of shelter has increased significantly in the last several years. The most recently publicized count was 1,619, almost a 50 percent increase from 2017 to 2020. It jumped 11 percent from 2019 to 2020. Despite calls to build more housing for people earning well below the area median income, many in the Dallas area are still left without any clear pathway toward permanent housing options and tenant protections. The city has purchased hotels to shelter houseless people during the pandemic, but that comes with rules like curfews and visitation limits.
They also don't have a path to a livable wage and healthcare benefits to support the stability of that housing. And even many who have housing are at risk of losing it. With the city's reliance on property taxes and the rising costs of housing due to development and gentrification in rapidly changing communities, many residents could face foreclosure.
As the Dallas Morning News reported in February, the city's outreach workers have found that most individuals who ask for money on the street are doing so to pay for food and shelter. In that council meeting, Far North Dallas representative Cara Mendelsohn said that the idea that people were asking for money to go toward food, water, and shelter was "fantasyland." She said she's had "panhandlers tell me how much they make" and it was more than the $60,000 council members earn each year. City staff could not verify such a claim, saying they could only find "four people experiencing homelessness who pooled the money they received to get a motel room for the night."
The police chief then told council that the department has not found any sort of connection between individuals experiencing homelessness and violent crime.
When I moved to Dallas, I immediately began to teach my kids about housing and homelessness dynamics in the city. I had an eye toward what can be done to assist those experiencing homelessness. This led to my phone call with Kleinman, a councilman who has stated several times in public meetings that he would like to eliminate encampments and any sign of homelessness in the city. Most shelters have reached or are near capacity, particularly with efforts to control the spread of coronavirus.
Over the 35 minutes we spent on the phone, Kleinman reiterated his perspective, layering in tropes about people experiencing homelessness. He argued that many in the unsheltered homeless population refuse services because they would rather remain unhoused and "make wads of cash on the street."
Kleinman said he hasn't actually met someone who's shown him these wads of cash, though he claimed a staff member had a direct encounter with one such person. One thing he did seem to feel from personal experience is that park trails have been "overrun" by those experiencing homelessness. In a crude attempt to prove that no one wants to confront the population he wishes to displace, he encouraged me to run one of those trails.
Here's the thing though: I've been to these parks. And I've gone with my kids. And guess what? My family is fine. My kids and I treat individuals experiencing homelessness just as we would anyone else in the park. And they do the same toward us.
Instead of fear-mongering, I put together some ideas and lessons to teach kids about housing and homelessness. While we sit around and wait for the city to produce 20,000 "affordable" housing units, here's how you can do the same:
Crowdsource information on childhood early development from schoolteachers in your network and learn about the best ways to teach children new and complex topics. In speaking to early childhood educators across the country, I found that children are fascinated by "haves" and "have nots." Sometimes, at young ages, they will align themselves with the people who exercise power to limit resources. Meaning, the ones who are in control. It is important to help them grow out of this mindset so that as they mature, so they can develop empathy and become aware of pain, loss, and sadness outside of their own selves.
Collaborate with people working with those experiencing homelessness to understand the complexities of the issue and the structural elements of design and policymaking that make it difficult to secure long-term housing. Several shelters and nonprofit agencies will gladly invite people—including children—to tour their facilities to learn more about the causes of homelessness and the obstacles to alleviate it.
These tours are incredibly informational and turn an abstract concept into reality. Keep in mind that these tours aren't to showcase or exploit those experiencing homelessness. There are no "beneficiaries" to interview or ogle. There are people going about their lives, obtaining the goods and services they require, and living. Just living.
Connect with people in ways that make sense to them. My kids are experiential learners, so we started with trips around the city. We designed a city with our play blocks that included various formal and informal housing structures. We moved from those experiences to books and conversations based on what we read. One book we found to be exceptional was "A Shelter in Our Car," written by the author Monica Gunning and illustrated by Elaine Pedlar.
The book tells the story of a young girl, Zettie, and her mother who moved from Jamaica to the states and have recently lost their father. With no stable job and income, they live in an old car that they can't park overnight in many safe city neighborhoods. They often have to wait hours to relieve themselves and, when not in school, Zettie and another child experiencing homelessness collect items to be exchanged for small change.
It's an accurate portrayal of life for children experiencing homelessness and was designed in partnership with the Homeless Children's Network in San Francisco. The words on each page provide new opportunities to engage in high-quality dialogue.
Interestingly though, for my 6-year-old, a wordless book was most striking. "I See You," by author Michael Genhart and illustrator Joanne Lew-Vriethoff tells the tale of a woman who is experiencing homelessness. She is considered invisible or undesirable by everyone in each page of the book. Without any written words, the pictures depict her unwantedness in the neighborhood of a young boy, the other key protagonist.
Over the course of a year, with seasonal changes apparent in the images, the boy begins to take note of the woman. Finally, at the end of the book, he and his parents approach her at a busy bus stop and give her a blanket, not only acknowledging her, but attempting to provide relief.
Without any words to read, my daughter was drawn to the pictures and the details of each page. The pain of a woman who cannot be seen. The angry faces of those who consider her a nuisance. The choices of some to acknowledge a person's humanity.
Continue to have these conversations. Like any new concept, it can take time for people to assimilate new perspectives, especially when they have to shift their thinking. At one point, I realized that in our conversations about homelessness, I had neglected to make it clear to my daughter that people who work full time jobs can still struggle to secure long-term housing arrangements.
Our daughter associated homelessness with joblessness. So, we took out a calculator and did a few math exercises. She learned that at the current minimum wage ($7.25 an hour in Texas) a family like ours—with two working adults and two children—would likely struggle to retain housing, even if both parents worked 40 hours a week. She was appalled that people could go to a job every day and not be able to come back to a home. Building on that momentum, I shared my own struggles with finding housing as well as some of the struggles of some of our family members. It was a formative experience for both of us.
We're not going to end homelessness while we continue to dehumanize the city's most disadvantaged population. Informal housing settlements will continue to be destroyed with no regard for the rights of people who live their full lives in these spaces. They will pop up again in another park, just as nonprofits that help people experiencing homelessness have explained time and time again. Policy changes require a shift in public opinion, which can only come with education.
Instead, imagine what we could do with a sizable investment in education, awareness, and outreach.
Let me be clear. Education will not solve homelessness. But if I can teach my kids—and you can teach your loved ones, and our schools can teach their students, and our neighborhood associations can facilitate more empathetic discussions—maybe we can learn to understand that homelessness is a humanitarian crisis. If a 6-year-old can learn to connect with a woman at her most vulnerable state, perhaps Lee Kleinman, his City Hall colleagues, and all Dallas residents can, as well.
---
---
Compiled by Emma Kantor | Jul 09, 2019
---
SF Chronicle Interview by Susan Faust (Datebook, June 30 2019)
Kids' author broadens LGBTQ themes
Susan Faust June 21, 2019
Fifty years after the Stonewall riots, America has reached a "finally" moment. A gay man is running for president and being taken seriously. But just as the 2008 election of Barack Obama did not render the nation post-racist, Mayor Pete's rise does not mean that all is rosy for the LGBTQ community.
"There remains work still to be done," says San Francisco psychologist Michael Genhart. Yes, there are victories to celebrate, but there is also backlash and bias. Kids in same-sex families, like those in his practice, still face teasing and worse. And so, he has taken his work beyond the consulting room.
With eight picture books now to his name, Genhart aims to have a bigger impact and wider audience when it comes to social-emotional growth. Although his two most recent books focus on the gay community, they are for everyone, anytime, not just when problems arise.
Many of his adult patients carry conflict or unhappiness from childhood, and his books offer "understanding to a child who can then move toward adulthood with less baggage to carry around," he says. His topical books spark conversation at home, in the classroom, or even with him in treatment. That's old-fashioned bibliotherapy.
Genhart's interest goes beyond the professional. He and his husband have a daughter, now 23. In her growing up years, few books reflected their family and experience. Their go-to was the ground-breaking "Heather Has Two Mommies." Now Genhart helps fill a narrowing gap with books that give LGBT families a mirror and everyone else a window into the lives of friends and neighbors. He writes of pride and prejudice.
Genhart in his 50s is both playful and purposeful in the chunky board book "Rainbow: A First Book of Pride" (Magination; 28 pages; $17.99; ages 3-5). He explains, "I'm connecting rainbows in nature with the rainbow flag and with rainbow families." Cheery illustrations by Anne Passchier show how yellow washes "sunlight" on two dads and their baby, green showcases brown-kids in the outdoors, and so on. The affirming take-home message: "Be happy. Be love. Be proud."
Genhart's "Love Is Love" (Little Pickle Press; 36 pages; $$18.99; ages 4 and up), illustrated by Ken Min, takes tough moments head-on. This picture book explicitly uses the word "gay" to ease kids beyond awkward giggles. It follows a boy with a problem. Kids at school tease him for wearing a rainbow shirt ("gay") and for having two dads ("gross").
It is powerful that this name-calling is called out explicitly and that ready answers are modeled. Someone says, "You're not a family." The boy answers, "Yes, we are!" He knows his dads love him just as his friend's straight parents love her. Explains Genhart, "I wanted to present a book that would help normalize gay parenting and gay families, while also addressing the discrimination that still exists."
Two new picture books by San Francisco authors deal with gender expression, and assumptions and problem-solving. A boy who wears a dress and a girl in khakis get chased out of gender-specific school bathrooms in "Jacob's Room to Choose" (Magination; 32 pages; $17.99; ages 4-8) by Sarah and Ian Hoffman with illustrations by Chris Case. An understanding teacher steps in and helps her class figure out a better way. Take-away: Allies matter.
Restrictions hit the new kid in town hard in "Ogilvy" (Holt; 40 pages; $17.99; ages 4-8) by Deborah Underwood and illustrated by T. L. McBeth. Turns out that "bunnies in dresses play ball and knit socks, and bunnies in sweaters make art and climb rocks." Wanting to try everything, Ogilvy questions the status quo and ends up an agent of change. Takeaway: A single voice matters.
Susan FaustSusan Faust was a librarian at Katherine Delmar Burke School in San Francisco for 33 years. Email her and the Chronicle staff at books@sfchronicle.com.
---
---
Author and clinical psychologist, Michael Genhart, Ph.D., is back with illustrator, Anne Passchier in Rainbow: A First Book of Pride (Magination Press). Genhart is known for tackling tough or more mature topics in relatable ways through his children's books. In the past, he has covered topics including the bullying, friendship and learning differences. Rainbow: A First Book of Pride celebrates everything that makes the LGBTQ rainbow flag the important symbol that it is.
Genhart starts Rainbow: A First Book of Pride off by introducing the rainbow flag and noting that every color means something different. His words are accompanied by Passchier's beautiful artwork. They illustrate a diverse group of children of different ages and cultural backgrounds waving the rainbow flag, visually promoting inclusivity.
Genhart then unpacks the meaning of the different colors on the flag. Starting at the top with the color red and continuing with orange, yellow, green, blue and purple, the author explains how each color is associated with an important aspect of being. These facets include life, healing, sunlight, nature, harmony and spirit. Each color is again accompanied by Passchier's artwork. Passchier emphasizes the color at hand in their illustrations of different beautifully unique, non-traditional families.
Following the explanations of each of the colors, Genhart reminds us that everyone loves seeing rainbows and that rainbows can be seen around the world. He also emphasizes the importance of love, happiness and being proud. The book ends with a few short words from Genhart diving a little further into the meaning and importance of the rainbow flag.
This book is so important for many reasons and Genhart does an amazing job. Genhart also offers a unique perspective on this particular topic, as he is a respected clinical psychologist and has a "rainbow family" of his own. This book is a great way for children of "rainbow families" to see that love is love and that their unique family is to be celebrated. It is also an important book for children of any and all types of families, as a reminder that these differences exist and should be accepted as part of each individual's identity. This is a book that all families, schools and bookstores should have on their shelves.
I believe this book is an important step in changing the way that people perceive "normal," especially when it comes to family life. I did not come from a "rainbow family" myself, but my family was often seen as non-traditional. This break from the norm was something that I was always somewhat self-conscious of as a child. As an adult, I now know that there was nothing to be embarrassed about and that my family shaped me into the person I am today. This book reminds us that all families should be celebrated.
---
June 7, 2019
Today we are pleased to feature author Michael Genhart, PhD, who has authored many books for children. Read about his recent book, RAINBOW: A FIRST BOOK OF PRIDE illustrated by Anne Passchier (Magination Press, May 2019).
Tell us about yourself and how you came to write for children.
I grew up in Southern California, one of seven children, in a middle class suburban community. I was a first-generation college graduate – studied psychology after falling in love with the subject matter in high school. That lead to graduate school in clinical psychology and starting a private practice in San Francisco. I met my now husband when I was in grad school, and we've been together 33 years. Nine years into our relationship we decided to have a family and adopted our daughter (at birth). She graduated from college last year (hip, hip, hooray!) and now teaches marine science to elementary school children.
So I came to writing for children because of being an avid reader as a kid, being a dad who loved sharing books with my daughter, being a student where the discipline of writing was essential to being successful, and being a clinician where I see children, teens, and adults who are seeking my help to understand their inner lives and better communicate their feelings and thoughts. The simple answer is I thought writing books for kids would be fun. Much of the time it is, but boy was I unprepared for how hard it actually is!!!
Congrats on your recent picture book, RAINBOW: A FIRST BOOK OF PRIDE. Tell us about it and what inspired you.
Thank you! For RAINBOW I wanted to write a board book – simple text with few words, for very young kids. And I wanted to feature rainbows (who doesn't love a rainbow?), link them to the rainbow flag and what the different colors mean, and link all this to rainbow families (two moms/two dads). I was inspired by the 50th anniversary of the Stonewall Riots, the 40th anniversary of Gilbert Baker's first Rainbow Flags, and the amazing amount of rainbow families we see everywhere. Yippee!
At the same time, I wanted to write a book that would appeal to all kids and families not just the LGBTQ+ community. The book turned into a hybrid board/picture book. And Anne Passchier's illustrations are super cool. I really like how RAINBOW came together and hope many families will enjoy it.
Was your road to publication long and windy, short and sweet, or something in between?
I started thinking about writing books for kids when my daughter was in high school and applying to college. I figured I would have more time on my hands, in addition to my day job, to write. Plus, it helped me feel re-connected to when she was younger and we would read together. At the time a local bookstore hosted a Saturday morning critique group where writers shared their stories. I was so nervous but went anyway. That story eventually became my first book OUCH! MOMENTS – five years later. During that time I wrote all kinds of stories.
With the help of my super talented local editor, Amy Novesky, many of these stories have become books too. Without an agent, many doors are closed to authors wishing to submit their manuscripts. So I have been extremely fortunate that Magination Press (the children's imprint of the American Psychological Association), Little Pickle Press/Sourcebooks Jabberwocky, and Cameron Kids have liked my stories enough to turn them into books. Reflecting on all this, I suppose I would say my journey has been "something in between" – but one where I'm constantly working on trying to be a better writer. Someday I hope to get there!
What projects are you working on now?
I just completed a picture book that was recently acquired. It's a story about story-telling within families, passing on tales from one generation to the next. I've also recently finished a picture book about inclusion/exclusion and being self-confident in the face of discrimination. And now I'm immersing myself in the land of writing picture book bios. They require a ton of research and lots guidance from fellow authors who have mastered this craft. Thankfully, these mentors have been so generous and helpful!
What advice would you give to aspiring authors?
From the standpoint of writing picture books for kids, I would say start with reading a lot of picture books. Spend time in libraries and bookstores. Study the artform and craft from these other writers. Join SCBWI and attend workshops and conferences to learn about the industry, meet other writers, and to hear from editors and agents. Find a critique group. Write, write, write. Tell stories from your heart, and chose topics that matter to you. This is a tough industry. Having a thick skin, patience, and persistence also help tremendously.
What is one thing most people don't know about you?
I think most people would not know of my mixed ethnic heritage: Mexican/Swiss – American. Unusual blend, right? There's so much I love about both these cultures! In fact, I have a picture book coming out in 2020 called ACCORDIONLY (Magination Press) which features a boy who brings together the two cultures of his family through the music of the accordion. Super cute!
Where can people find you online?
Come visit my website (WWW.MICHAELGENHART.COM) and I'm on Facebook (@PICTUREBOOKAUTHOR) and Instagram (@MICHAELGENHART).
1 comment:
LYDIA LUKIDISJUNE 7, 2019 AT 11:19 AM Amazing! We need more diverse books out there that depict different kinds of family structures. Congrats
---
In his new children's book, "I See You," Michael Genhart tells the story of a woman experiencing homelessness and a young boy who is the only one who seems to notice her. The catch is that he tells the whole tale without writing a single word.
The story, told entirely through illustrations by artist Joanne Lew-Vriethoff, shows a little boy's growing curiosity and concern for a local homeless woman he sees from his window every day. He watches the daily stigma and hardship she experiences over the course of a year as she sits at the bus stop.
Throughout most of the book, the woman is illustrated in black and white while the other smiling people who sit at cafes, walk by with their shopping bags, paste advertisements for "Luxury Condos on Sale," or wait for the bus are depicted in vibrant color. When people do take notice of the woman, it is to pinch their noses or to sweep her angrily off their doorstep. Her humanity remains invisible. In the end, when the boy gives the woman his favorite blanket as a holiday gift, the bystanders finally take notice of her. The boy's gift returns her color and her visibility to the rest of the world.
Genhart said he chose not to use narrative in the story because he "didn't want to tell people what to think or feel." Illustrations facilitate more questions and can spark a conversation in the classroom or between parents and children. The use of color shows the contrast between everyday life for many people and the isolation and invisibility felt by the woman experiencing homelessness.
The author is a licensed clinical psychologist who has written several children's books about topics that can be difficult or uncomfortable for parents to broach, such as jealousy and LGBTQ pride. He chose to write about homelessness, he said, because it is a worldwide problem that he wanted to address the best way he knew how.
The compassion of children is a main focal point of the book. "I think it is human nature to care," said Genhart. "But homelessness makes us uncomfortable, overwhelmed. Whatever gestures we might want to make seem like they're not enough, so why bother?"
However, like the little boy in the story, children tend to have questions and compassion about issues many adults have ceased to notice. His book shows that children notice and learn from everything, including the way some adults act fearful of or indifferent towards the homeless. "I think kids are not afraid," said Genhart. "As adults, we shouldn't teach them fear."
Instead of fear, Genhart's book seeks to teach kids curiosity and empathy. In the back of the book is information and advice for adults about how to broach the subject of homelessness with their children, and how to answer their many questions in a way that fosters compassion and understanding for the people experiencing it.
There is also information about how to help people who are homeless, such as by preparing small care packages with snacks and hygiene products that can be kept in pockets. According to Genhart the book has already been used in classrooms as well as by parents, and he has received "super positive reactions." According to one parent, the book cover caught the eye of her three-year-old son and led to a discussion about some of the hardships faced by people experiencing homelessness. A fifth-grade student wrote in a letter that she liked the book "because it gives a message to the world that everyone's the same even if you are poor, rich, Spanish, American, Muslim, black, white or homeless." Many other readers were inspired to recreate the care packages from the book's instructions, or to design their own projects.
By including information for both children and adults, Genhart said he "really wanted to start a conversation in a natural way." He suggested that parents follow their child's lead when deciding when or how to begin talking about homelessness, and to give age-appropriate, honest answers like the ones in the back of his book. Parents should "address both the content and feeling of the question," said Genhart. The narrative and morality of the story may be sufficient for younger readers, but older children might benefit from discussing homelessness in their own city using resources from the back of the book.
Genhart noted that adults are likely to learn as much from his book as their children. Children's questions can lead to reflection and further research, and their desire to help can rub off on parents and teachers. Ultimately, adults can relearn to acknowledge and feel compassion for the homeless, even if this just means saying "hi." "I will consider this book a success if it was able to build a conversation," said Genhart.
---

---
7 July 2018
Over the past month – in the US and in approximately 70 countries around the world – organizations, corporations, communities, and even some government agencies, have celebrated and are honoring LGBTQ (Lesbian, Gay, Bisexual, Transgender, Queer/ Questioning) friends, neighbors, co-workers and family members in recognition of Pride Month.
As communities and states across the globe celebrate pride month, Barbara Van Dahlen, Ph.D. draws on the importance of being mindful of and supporting the mental wellness of LGBTQ individuals and particurly young LGBTQ people who have some of the highest rates of suicide. And shares how 'we can all do more to educate and advocate for the rights of those who remain vulnerable and underserved'. Sherah Beckley, Editor, Thomson Reuters Sustainability
These celebrations demonstrate what we can achieve as a compassionate and healthy society – openness, acceptance and respect for all. But as we know, there are still far too many LGBTQ people who are discriminated against, abused simply because of their sexual orientation or gender identity. The long-term consequences are significant and much remains to be done to ensure that all in need receive the care and support they deserve.
The first Pride March was held in New York City (NYC) in June of 1970 to commemorate the Stonewall Riots that took place the prior June. For those who may not know this history, the Stonewall riots were a series of violent retaliations against police raids on gay bars in Greenwich Village, NYC, beginning at the Stonewall Inn on June 28th, 1969.
Several gay men were beaten and taken into custody for soliciting "homosexual relations", for not wearing gender appropriate clothing and for other charges related to appearance and sexuality. The Stonewall Riots are credited with beginning the gay liberation movement in the United States.
Originally, Pride events took place on the last Sunday in June but quickly expanded into an entire month of planned activities in large cities – first in the US and then around the world. In 1995, June was declared National LGBT History Month by the General Assembly of the US National Education Association. In 2009, US President Barack Obama declared June as Lesbian, Gay, Bisexual, and Transgender Pride Month.
I remember feeling especially proud to be an American as I passed by a White House that was bathed in the colors of the rainbow to celebrate the President's declaration.
Pride Month was initially intended to reflect a political agenda and voice LGBTQ demands for equal rights and protections. During the 1980s, parades and demonstrations across the US brought much needed attention to the AIDS epidemic. It wasn't until the early 1990s that Pride began to resemble what it is today – a celebration of queer life and sexuality in addition to political and social demonstration.
While Pride month is an opportunity to appreciate all that has been accomplished politically and socially, it also serves as an important reminder of what we must continue to do to reach those who continue to be shunned instead of celebrated.
Because of the ignorance and intolerance that remains, there is reason to be concerned about the emotional health and well-being of some of our LGBTQ brothers, sisters and friends. We should be especially concerned about our LGBTQ youth.
According to recent reports from Mental Health America, the National Alliance for the Mentally Ill and the Centers for Disease Control, mental health challenges are more prevalent among those who identify themselves as LGBTQ.
For example, LGBTQ individuals living in the US are three times more likely to have a mental health condition than non-LGBTQ individuals. In addition, an estimated 20-30% of LGBTQ people abuse substances, compared to about 9% of the general population. Further, surveys of adolescents in this populations indicate that 10% demonstrate a mood disorder, 25% an anxiety disorder, and 8.3% a substance use disorder.
In 2015, nearly one-third (29%) of LGBTQ youth had attempted suicide at least once in the prior year compared to 6% of heterosexual youth. And sadly, for LGBTQ people aged 10–24, suicide is one of the leading causes of death. Further, our LGB youth are four times more likely – and questioning youth are three times more likely – to attempt suicide, experience suicidal thoughts or engage in self-harm than heterosexual people. Finally, as many as 65% of transgender individuals experience suicidal ideation.
Why are these numbers so high compared to non-LGBTQ individuals?
We know that family support – or the lack of support – plays a particularly important role in affecting the likelihood of suicidal ideation and attempts. LGBTQ youth who faced rejection after coming out to their families were more than 8 times more likely to have attempted suicide than someone who was accepted by their family after revealing their sexual orientation.
Perhaps most distressing are the numbers associated with our LGBTQ youth who are living on the streets. Up to 1.6 million young people experience homelessness in the United States every year.
40% of them identify as LGBTQ according to a 2012 study conducted by the Williams Institute at UCLA . This number is especially shocking given that LGBTQ youth make up only 7% of the total youth population.
46% of homeless LGBTQ youths report that they ran away because of their family's rejection of their sexual orientation or gender identity; 43% were forced out by parents, and 32% faced physical, emotional or sexual abuse at home.
As we know, mistreatment isn't limited to the home. The effects of abuse and harassment at school also have long-term consequences for our LGBTQ youth. School is supposed to be a safe place for children to learn and grow. But for our LGBTQ youth, this is often not the case.
According to a 2016 report by the Gay, Lesbian & Straight Education Network, LGBTQ students who experienced high levels of anti-LGBTQ victimization were twice as likely to report they do not plan to pursue post-secondary education. Also, LGBTQ students who experienced high levels of victimization and discrimination had lower GPAs, lower self-esteem and higher levels of depression.
55% of LGBTQ youth report feeling unsafe at school because of their sexual orientation, and 37% feel unsafe because of their gender expression. Finally, 16% were physically assaulted, either punched, kicked, or injured with a weapon, because of their sexual orientation.
These troubling statistics remind us that many within the LGBTQ community continue to face mistreatment and abuse – and many suffer long-term consequences as a result.
Is it any wonder that many LGBTQ individuals struggle with mental health and substance abuse challenges given the way they are treated – often by their own family members?
Is it any wonder that many within the community feel such emotional pain that suicide seems to be their only option for relief?
Lest we feel overwhelmed by the work that remains to be done, there are hopeful signs that culture change continues. Just this past week, the Vatican used the term LGBT for what is believed to be the first time in history in a planning document for an upcoming high-level meeting.
In addition, a prominent advocate for LGBT people was asked to speak at a second, meeting – something gay Catholic groups say has also never been done before.
But we can't leave it to the Pope or other world leaders to create the change we seek.
We must each look for ways to contribute so that LGBTQ people – of all ages – are treated with respect, dignity and compassion. Those of us who have specific skills to address the consequences of abuse, mistreatment and mental health challenges must do more to attend to those who are suffering. And we can all do more to educate and advocate for the rights of those who remain vulnerable and underserved.
Finally, and perhaps most importantly, we can practice what we hope to see – and we can teach our children to do the same. We can be open-hearted, caring and compassionate toward those who are different from us – even those whose intolerance we find difficult to understand.
A recently published children's book written by child psychologist and author Dr. Michael Genhart does an excellent job of going straight to the heart of the matter. In Love is Love, children being raised by same-sex parents around the world struggle to make sense of the discrimination they experience.
In this beautifully illustrated story, the children eventually come to a shared wisdom – one that I wish more adults would appreciate – that it really doesn't matter whether your parents are straight or gay…..what matters is that they protect, nurture and love you.
Indeed, isn't that all that any of us really want and need – to be loved, respected and cherished by someone we trust?
---
---